Sonny Rice & The Hall of Famers
Meet The Band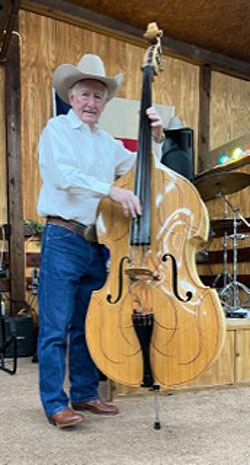 Sonny Rice
Born in Eureka, KS the son of a rancher so you can see I have been a cowboy all my life. I started training horses when I was about 14. I did a lot of ranch roping and cutting (sorting) from the time I could get in the saddle. My dad was always by my side helping me. From there, I went on to be a World Champion five times in the AQHA & NCHA competitions. I still train horses today. My dad was a music man when he wasn't ranching. He was playing music for dances all over Kansas. The band was all of my uncles, so you can see music is a family tradition. I picked up the bass guitar & guitar seriously in the late '50's and have gone on from there. Western Swing is my love and it needs to be kept alive. I am also the Pastor of All Around Cowboy Church in Sealy, TX. Our Praise and Worship is a lot of Western Swing with a few lyrics changed to Glorify God. As you can see, I am a cowboy and a music man all in one.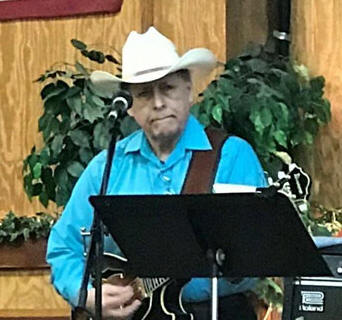 Terry Barnett
I was raised in Houston, attended Westbury High School and Houston Baptist University. Started playing guitar at age 12 and played in many "garage bands" through grade school. Played in the original "Buddy Wright and the Wright Five" Houston band. Played with numerous Big Band Music groups and The River Road Boys during the 1990's. Started playing in Church praise/worship groups in the mid-1990's to this date. Worked 40 years in Oilfield Sales retiring from Cameron and T3 Energy in 2006. I know the Lord has given me a musical gift…and under His care and guidance to use it in many ways to bless and encourage others. This is at the heart of my playing all kinds of music with The Swingin'On Band.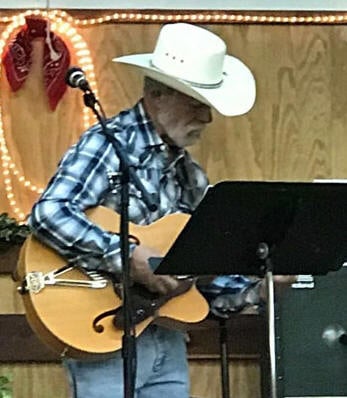 John Steele
I was raised in Mississippi and as a young boy began learning to play guitar. I shared my Mother's love for singing and both my parents encouraged my pursuit of music. We attended a small country Baptist Church where I learned the old hymns early on in life and there gave my life to Jesus Christ. Dad's transfer to Houston had me attending Lamar high school and by my senior year I was already active in Houston's music circles. After high school I traveled with a group who had the opportunity of opening for "headliners" such as Jackie Mason, Pearl Bailey and Buddy Hackett. Later my style and career turned 'Country' and I had the privilege of working with country music legends such as Bill Monroe, T. G. Sheppard, Earl Thomas Connelly, Gary Morris, Johnny Rodriguez and many others. For two years in the early 1980's I opened for George Strait and began to pursue recording opportunities in Nashville. However, success came with a price and my life took a different pathway for a number of years. Country' has always been at the heart of my music, but I enjoy a variety of styles from country to popular classics, traditional hymns to contemporary praise, and recently Western Swing, thanks to The Swingin' On Band. With all the joy and success my passion and gift for music has provided, I must tell you that the love of my life is first, my Lord Jesus Christ, and second, my lovely wife Carol, who is truly a gift from God.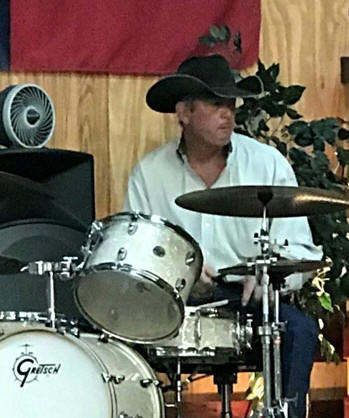 Matlock Rice
Western Swing music is my passion. I have been playing drums for 43 years and when I started that is all I could get the beat to. I remember making a drum set out of plates and ash trays and using moms kitchen knives as you drum sticks and playing with the old Bob Wills albums. Playing with dad and Rex Skyler in Brenham at the Tranquility Ballroom ( behind the old bowling alley) At different times I have played with Little Jimmy Dickens, Carl Smith and Red Stegall. When I am not out with my job of horse training and showing I play with the band and All Around Cowboy Church. I invite you to come out and hear the swing band that God put together.
May the God of hope fill you with all joy and peace as you trust in him….. Romans 15:13